By John – former guest of Engaging Cultures Travel
I had the privilege of traveling to Jordan late last spring.  I had traveled to Africa and Europe a couple of times before, but never had the opportunity to travel to the Middle East.  It had always been a dream of mine to go, so when I found out about this Jordan tour with Engaging Cultures Travel, I dove in head first. The trip was everything I had hoped it would have been and more.
The people of Jordan made the trip
The sites, sounds, smells and tastes of the Jordanian culture were amazing and quite frankly mind blowing.  The Judeo/Christian/Islamic history and heritage of this great country was something that presented itself at every turn.  From Ancient ruins and trails as old as time, to the beauty and majesty of the Dead Sea, Jordan was amazing.  But what really made the trip special for me was the people of Jordan.  Having traveled before I had a notion of how the people of Jordan would look at and treat this wide-eyed American…man was I wrong. From businessmen to the Bedouins living in the mountain camps, they were nothing but helpful, hospitable, talkative, engaging and interested in me and my story; the same way I was in theirs.
Breaking down walls
The next morning our group had planned to explore the mountains and visit with different bedouins in the area.  I was too ill and weak to hike that day so I stayed behind at the camp.  My group left and I slowly crawled from my tent to try and get some fresh air and fresh water.  I was greeted by two Egyptian men who helped at the camp, Ahmad and Mohammad.  They could tell I was not feeling well so they told me of a place in the camp they referred to as "a natural place of healing". They led me there; I laid down in the shade of the 50 foot cliffs.  The men brought me water and tea (amazing tea with mint), and for the rest of the day they sat with me.  As I lay there resting we began to talk.  We talked of our families (both in other countries), of our faiths, our countries, some politics, etc.
At the start of the day I was ill, and upset that I was not with my group…missing out on a day of exploration.  By the end of the day you could not have paid me to trade it in.  That day at the camp with Ahmad and Mohammad was amazing.  Not only did my fever break but I got to spend some real quality time with 2 men my age just talking about life, breaking down the walls that our cultures say we must have.  That is what Engaging Cultures is all about.  It's not just about seeing the sites, learning the history, trying the foods, etc.  Those things are all great, but you know what's even better?  Shaking hands with people, smiling and laughing around a fire, getting to share family photos from a phone, and making new friends you never knew you could have.
We left Jordan several days later, and though I was ready to go home, I was also ready to go back to the camp and just sit with Ahmad and Mohammad.  I'll never forget this trip or that day. Amazing.

Mohammad at Ammarin Bedouin Camp – Petra, Jordan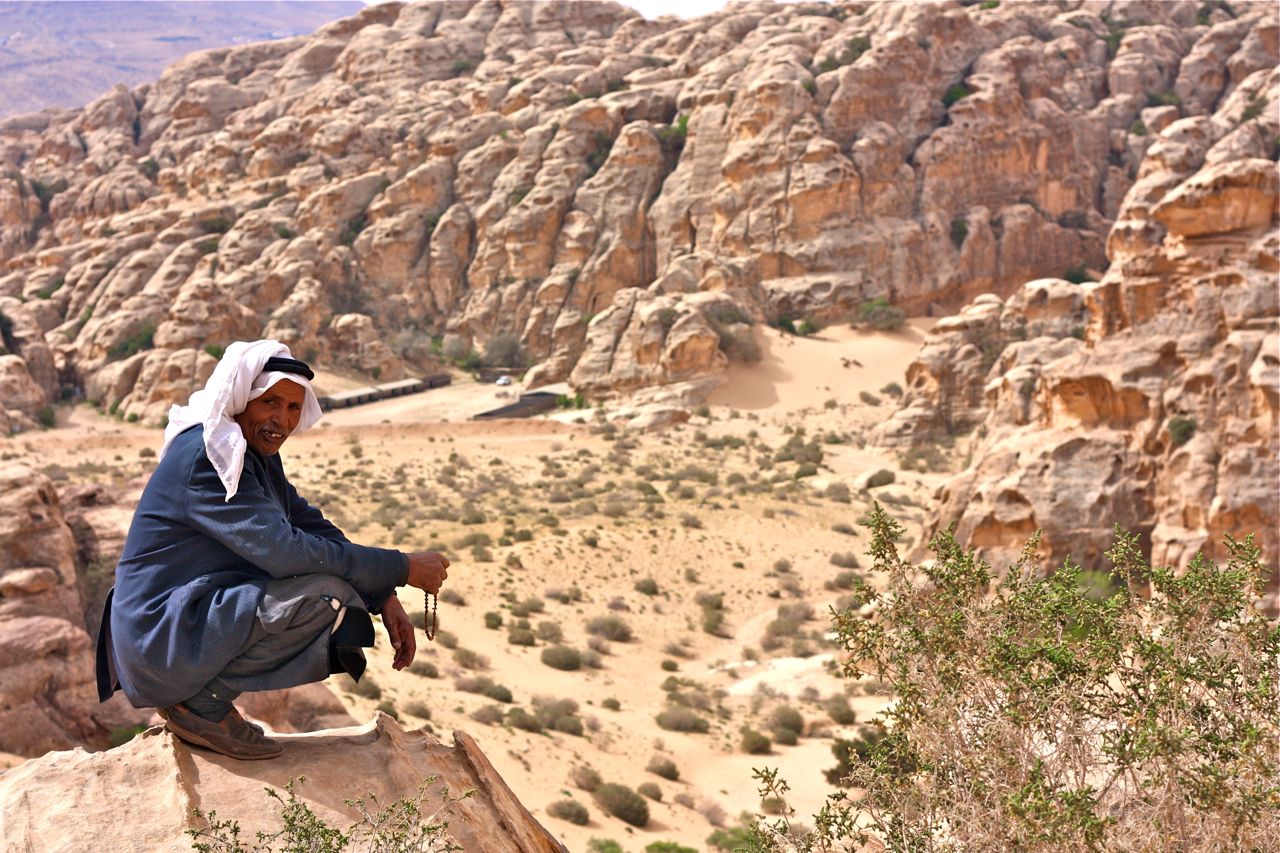 View of Ammarin Bedouin Camp from hike to Bedouin Village
Click here to see a video of John's Immersive Travel Experience in Ghor making traditional bread.
Interested in taking a Jordan tour?
[tagline_box link="https://www.engagingcultures.com/contact/" button="Request A Customized Itinerary" title="Request A Customized Itinerary" description="We respond within 24 hours.  No strings attached."][/tagline_box]